Learn Combat Mindset, Marksmanship, and Tactics that could save your life or the life of a loved one!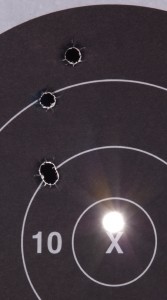 CCWUSA.com-Testimonial 2 from David Hebble on Vimeo.
Private Handgun, Shotgun, or Carbine Training will drastically increase your personal skills with the individualized attention available in our one-on-one, or Semi-Private classes. This is the absolute best way to learn safe gun handling; for beginner, intermediate or advanced shooters. Private Gun Training offers immediate improvement of basic and advanced skill sets, in a confidential and secure setting. This one-on-one attention to your personal gun handling skills creates a positive and comfortable learning environment conducive to rapid improvement in a compressed time frame. Four to six hours of Private Training will cover the same material as a typical two-day Group Class, without the added distraction of additional students.  Private Range instruction will cover the safe use of a defensive handgun including Home Defense and Low-Light Tactics. Topics include: Firearm Safety, Gun Handling, and the basic fundamentals of Defensive Handgun shooting. We will also cover the draw, speed reloads, malfunction clearing, use of cover, and engaging multiple targets, and tactical flashlight options.
•Our Low-Light Tactics Training gives you the opportunity to combine a portable light source with your defensive firearm, in challenging and realistic drills that will test your current skills while building new skill sets, decreasing your reaction time, and improving your survival mindset in a safe low-light training environment.
•Our Charging Knife Attack Simulator – covers 21 feet in 1.5 seconds, and simulates a sudden surprise attack! This will get your heat pumping and show you what an ambush attack looks like, and how to successfully respond to multiple moving attackers!
•The Advanced Transition Jungle Trail, where you will navigate a hostile environment with your Handgun or Carbine, and then transition to your back-up gun when your primary weapon runs dry. Skill building Tactics and Training!
•Awesome new man-on-man dynamic challenge drills. You can really push yourself to the next level, and improve your Mindset, Marksmanship and Tactics on multiple reactive targets, including the Hostage Rescue Target, and Active Shooter Response Drills that will challenge you to improve abilities under stress.
Allow us to custom design a Private Class, Birthday Party, Corporate Outing, Bachelor Party, or Team Building Event to fit your specific needs and schedule. Contact us to discuss your Defensive Training needs today.
Private Lessons are $275.00 for a two-hour Private Class (add $50 per additional student for Semi-Private Training), and $520.00 for a 5-hour Private Class (add $20 per additional student for Semi-Private Training). Ammunition is purchased separately. You can have two people in a 2-hour class, or five people in a 5-hour class, and split the cost.
Five-Hour Private Group Classes are as follows:
Three students: $199.00 per person
Four students: $149.00 per person
Five or more: $125.00 per person
Protect yourself and your Family! Contact us to schedule your Private Training Class Now!  The best way to schedule private training is to email us several dates and times that would work for you.  We will confirm the availability of our Instructor, as well as range availability.  Most of our Private classes are scheduled on weekdays (Monday's or Friday's). GIFT CERIFICATES are available in any amount, and never expire! They make an excellent present for friends, family, employees, co-workers, or those that are just difficult to shop for. Get your kids, spouse, or significant other out on the range for some high quality training in 2016!
Schedule Private Firearms Training Today!
Foreign National Policy
NRA cannot provide any assistance in training foreign persons due to conflicting information from the U.S. Government regarding regulations pertinent to foreign persons and arms training. NRA cannot process any requests for assistance in training foreign persons. In view of the above, we regret to inform you that NRA cannot renew NRA firearm trainer credentials for any foreign national.