William "Bill" Desy, CFE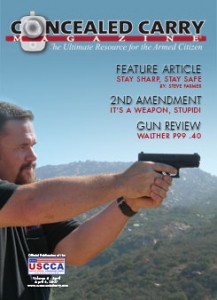 William Desy is a State Certified Firearms Instructor under the California Bureau of Security and Investigative Services and the California Department of Justice. Mr. Desy has been a Nationally Certified Firearms Instructor since 1992. He has worked in the Security, Loss Prevention, and Private Investigations field for over thirty years.  An NRA Certified Law Enforcement Instructor, NRA Training Counselor (Instructor Trainer) and he is an Approved CCW Firearms Instructor for San Diego, Orange County, and Ventura County, and numerous Northern California Sheriff's Departments. Mr. Desy has worked under contract with the United States Navy's Force Protection Program, Armed Sentry Course; Providing small arms instruction with four different weapons systems; M9, Mossberg 590, M16, and M14. A life-long student of Martial Arts, he is a Certified Self-Defense Instructor and Defensive Tactics Trainer with extensive training in various Defensive Methods. Mr. Desy is also a CFE (Certified Fraud Examiner), State Licensed Private Investigator, Loss Prevention and Security Consultant. Offering world class customized training in Armed, and Unarmed, Defensive Tactics and Personal Protection strategies to suit your individual, family, or corporate needs.
I have a strong passion for teaching Self Defense. Not everyone gets to do what they are passionate about and believe in so strongly. What you learn from my classes may one day save your life, or the life of a loved one! …The greatest compliment I have ever received is the referral from my students to train their spouses, children, and friends. Thank you, for trusting me to help you protect the flock, and your loved ones, from the evil that is present in this world. -William Desy 

 
Certifications:
Member NLEFIA
Certified Glock Armorer
NRA Training Counselor
NRA Certified Rifle Instructor
NRA Certified Pistol Instructor
NRA Certified Shotgun Instructor
CALSAGA Training Committee Member
NRA Certified Chief Range Safety Officer
NRA Certified Personal Protection Instructor
NRA Certified Home Firearm Safety Instructor
BSIS State Certified Baton Training Instructor
NRA Certified "Refuse to be a Victim" Instructor
BSIS State Certified Firearms Training Instructor
California Department of Justice Certified Instructor
NRA Law Enforcement Handgun and Shotgun Instructor
Certified Monadnock Expandable Baton Advanced Instructor
Certified Self-Defense Instructor-McClintock Self Defense
Defensive Tactics Trainer-Public Safety Training Association
Self Defense Instructor – R.A.D. Rape Agression Defense Systems
American Heart Association – BLS First Aid/CPR/AED Instructor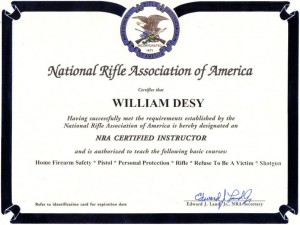 Contact Bill Desy
Sign up Now!